With the development of e-commerce, online advertising has become very crucial. Traffic and lead generation have become important in enhancing conversion rates.
While there are different forms of advertisements, push notifications ads have become quite popular, driving impressive numbers of traffic and with high chances of engagement. But how can an affiliate marketer effectively implement push ads? Well, here is a comprehensive overview of push ads.
What is a Push Ad?
This is a native ad formation that involves the delivery of adverts to the users' mobile devices and desktops, just like push notifications. It's non-intrusive, safe, and user-friendly since it works like an important notification or a private message but from a website.
Push ads usually appear over the user's screen and over the other web windows. They are quite versatile and highly functional. That's why they can be sent to most devices, as long as there is a browser plus internet connection.
Push notification consists of:
The main image consist on the sense of the offer;
The small icon explains the main photo;
The headline is the main text to engage users;
The message text shows the main details.
Push ads are relevant for the most ambitious marketing ideas.
Why are Push Ads Popular?
Getting your target audience to engage and re-engage consistently with mobile applications is quite challenging. But this can be effectively done by the use of push notifications. They provide a simple, effective, and efficient way.
So, what are the benefits that come with push ads?
💰 Improved User Engagement
This is one of the top benefits of using push ads. They are known to be great traffic attractors, leading to the generation of more customers on specific touchpoints.
🤑 Helps To Retain Users
Push ads provide users with a chance of re-engagement. This is what usually leads to a higher retention rate. They provide thoughtful reminders and offer customized offers.
💸 Affordability 
You don't have to dig deeper into your pocket to invest in this type of ad display. In case you choose to use MegaDSP, then the minimum amount you need to pay for the ad network is just $100.
💪 Ideal for Affiliate Marketers
Push ads are uniquely designed on the basis of loyal content policy and this makes them the best alternative option for use by affiliate marketers. It can be used with many verticals including Gambling, Crypto, E-commerce, Sweepstakes, and Adult Content with pre-landing pages.
🌎 Broad Geolocation for Launching
MegaDSP push notifications can be launched in more than 220 countries globally. So, the notifications can be launched in any geolocation and as a result, users are guaranteed a broad range of traffic options.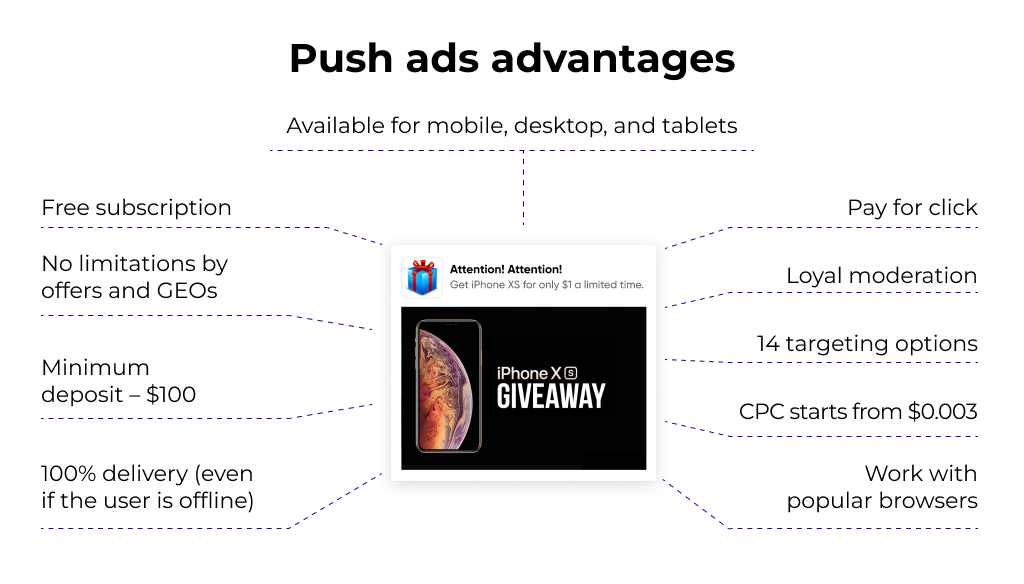 📊 Trackable and Actionable Metrics
This is one of the most outstanding benefits of using push notifications. They help to effectively track user behavior based on different factors such as the subject of the notification, the location, and the device among others.
The design of push notifications is to offer you a comprehensive analysis of the push notification metrics. This usually includes data in relation to the number of times the ad has been opened, the open rates, the delivery of receipts, as well as the engagement rate.
This will give you valuable insights based on user behavior involving click-through rates and interaction times. In the end, you can effectively launch appropriate campaigns that are based on user behavior.
❤️ Improved Customer Care Strategy
Push ads provide a great way to enhance the overall user experience. For starters, they are less intrusive types of ads. So, the target audience will definitely feel secure while engaging with them.
Secondly, push notifications usually lead to high levels of traffic and can, therefore, help to provide users with the most useful type of information. Overall, this means that your customers can effectively keep up to date with the latest news, offers, discounts, and promotions.
The fact that they are effective in getting the users' attention within seconds means that they offer great value for money and time. They are time-sensitive valuables that are user-friendly and ensure that you attain your marketing campaign goals quite easily.
📩 Timely-Delivery
Push notifications will always deliver on time without fail. In fact, the chances of delivery to the users' screens are significantly minimized since the ads only target a specific audience. The efficiency of delivery is enhanced with the notifications being delivered to the users as soon as they get online!
👤 User Subscription
The private and safe nature of push adverts is that they are delivered based on subscription. This is an effective type of ad format since it's up to the user to agree to the type of ad materials that they want to see. This means that the turn-around is usually great since there are more loyal users.
Push Notifications and Technical Targeting
While MegaDSP push ads help to push traffic in a broad range of locations, it comes with lots of technical targeting options. There are lots of factors that can help you to effectively target different users based on target-specific aspects such as:
🎯 Country, Region, or City
Of course, MegaDSP allows you to launch your Push ad campaign in one country. However, you can still create and test another campaign for another country in case you want to try out multiple options.
Regionally or city-based, the ad feature allows you to implement parameters that show ads to your target audience in different regions and cities.
🎯 Type of Device
Push notifications perform differently in various devices and their models. That's why it's always advisable that you create two different types of campaigns and then test them on different devices. You just never know which one will deliver optimal results.
🎯 Network Carrier and Connection Type
This is an important targeting option with useful parameters if you decide to launch the ads as clock2sms and click2call or even on polls and mobile subscriptions.
🎯 Browser Language
Different countries and regions tend to use localized languages that are popular with users in those regions. If you are targeting a state with several languages, this is where browser language comes in handy because you will only customize your ads to feature specific languages for improved impressions.
Push Ads Target Audience
Push ads suit a wide range of niches and subjects. However, different audiences have different needs but there are those niches or subjects that are popular across most audiences. They include:
Mobile applications and anti-viruses: This makes sense because push ads are mainly used by those who have mobile devices and, therefore, need mobile applications.
Health and beauty: it's the current trend among people of different age groups. These products mainly include self-care, weight loss, and medical items.
Financial status with regards to money, betting and gambling, business, and financial offers among others.
Entertainment options such as virtual reality, gaming, dating, and streaming services.
Subscription-based news and education subjects including general news, weather, online education, and horoscopes among others.
Generally, push notifications are ideal in promoting business-2-business products and services. This is because offers that are narrow and too specific to a certain group of people will never be successful while using this type of advertisement.
It's also worth noting that this type of adverts is limited or completely prohibited in most social networks since they involve lots of verticals. As long as you have a pre-landing page, you can push your adverts on niches such as adult content and gambling. Just make sure that you are modest and remain within the right barriers of advertising protocols.
But while you are implementing technical targeting and analyzing your target audience, know that the audience's activity is important in determining conversions.
💲 Audience Activity Factor and Conversions
If you are a newbie working with push ads, you need to know that time is crucial in determining user activity. Generally, you are more likely to get a higher user engagement during the earlier days of their push notifications subscription. So, the user activity tends to decline as time goes by.
However, there is a New Subscriber-Only push notification ad targeting that involves showing your ads to those users who have recently subscribed to push notifications i.e. those who have subscribed within the last 7 days.
Push Traffic Sources
Push traffic is the most ideal option for newbie and veteran marketers. Nearly everyone starts with it and as they grow, this source of traffic is either scaled up or simply modified for use in a different format.
A good push traffic source should be simple to use i.e. beginner-friendly with an intuitive user interface. Besides that, it should have affordable payment options with the ability to bring in good global traffic. So, how do you target good traffic sources?
Well, it's advisable that you simply start with the currently available source of traffic. As you grow and optimize your strategy, you can optimize the existing strategies
Targeting Push Traffic Source: Best Practices
When you are running your campaigns, you want everything to run smoothly. More important, you want to hit your goals without fail. This means that you definitely want to use a high-quality traffic source. So, what are the best practices that you should apply in this case?
🎯 Localized Targeting
You can either go big or small with localized targeting. Geo-based targeting for push advertising usually makes it possible for you to perfectly understand your target audience. When it comes to marketing and conversation rates, information counts, especially if it's regional. You will be able to effectively know the location's performance and decide on the way forward.
🗓️ Scheduling
It's important that you create a schedule to help you determine how often you want the ads to be displayed to users. A combination of localized content plus schedule will give you an overview of the peak performance based on the number of user traffic.
When it comes to timing and scheduling push notifications, know that there are different users on the internet throughout the day. However, they access it at different times depending on what they need and the space they have. This is what determines the rate of the conversion rate.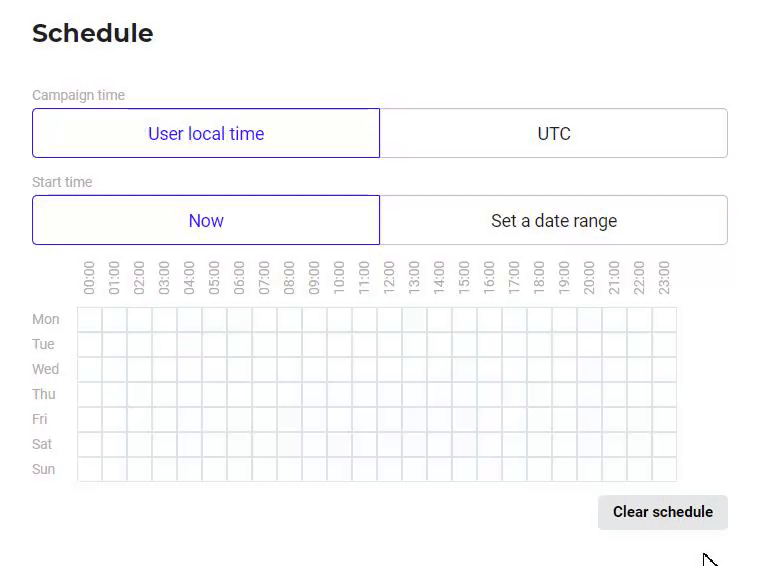 For instance, gaming and football push notifications tend to convert better during the weekend and evening. Besides that, entertainment and dating ads tend to have the same effects.
According to experts, launching a push notification campaign should be done 24/7. From there, a proper analysis should be done before conclusions can be made.
💻 Desktop and Mobile
This is known as device targeting. You customize the push ads based on the type of device that the target audience is using. For effective results, it's advisable that you combine both.
How to Successfully Run a Push Campaign?
There are two essential parts of a push campaign:
i-Testing of hypothesis
ii-Optimization of hypothesis results
Generally, each affiliate marketer usually has their own preference depending on what works best for them. For instance, there are those who prefer to work with the maximum bid because they want to quickly gather data and then go ahead to buy the maximum number of clicks from reputable sources.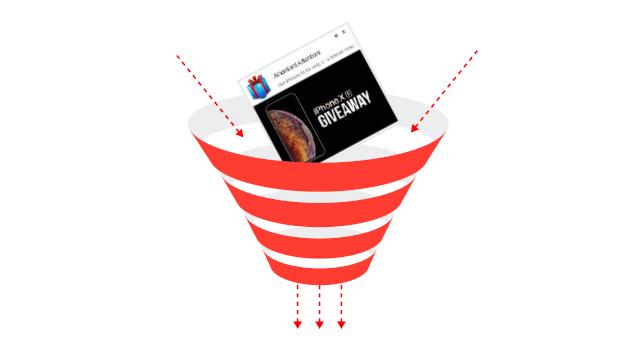 On the other hand, there are those that may opt to increase the bid during the process of optimization. But it's generally good for you to start with testing then carry out optimization depending on the test results attained. Testing is usually carried depending on the bids/location, devices, and schedules.
Use creative (i.e.) the push itself, to find unique ideas. While spy tools are some of the most effective sources of new ideas, the best way to find realistic and fresh ideas is by using a creative.
Use multiple creatives to launch your campaign: you can use a maximum of 10 creatives to help launch your campaign. This is important for your own analysis because it will help you determine which tests work out the best.
For every single campaign, ensure that you use test options involving pre-landing pages and direct links
Track all the campaigns conversions in order to improve the optimization process
To avoid cost overrun, ensure that you set a limit on the number of clicks on your ads. This is because there are some users who may simply click on your push notification endlessly and still fail to perform the required action. For best results, it's advisable to limit the number of clicks per day per user to 2.
Push Notification Campaigns and Creatives
In the previous section, we have talked about how important it is to consider creatives in your campaigns. Well, a creative, also known as the push itself is important in the development of a healthy sales funnel.
Users usually have just a few seconds to make decisions after evaluating the sales funnel and this depends on whether they want to click the push ad or not. That's why you should take time to effectively craft an effective campaign. Due to their brief nature of push notifications, they need to catch the attention of the target audience at first glance. This means that they should contain clear text, high-quality, and attractive images.

The main components of push notification include:
The main image that's designed to attract attention
An icon or logo that highlights the proposal's sense
A title to give a brief overview of the ad
A description with the right explanation
Note: In some instances, an emoji might be used with the title or accompanying message.
Understand that mobile devices contribute more than 90% of push traffic. However, most mobile users usually get push notifications without the main image. In this case, you must get creative with the push icon since this is what they are most likely to see.
Description of the Main Components of the Push Notification
How these components are designed is what will determine if you are winning in your push traffic campaigns or not.
THE MAIN IMAGE
It's a primary player in determining the success of push notifications. Well, this is because the main image is what users will pay attention to once they come across the notification, especially if they are using computer devices.

So, make the image clear, captivating, and large. In fact, the main image should occupy a sizable area of the campaign for it to become an effective attention grabber. For effectiveness, it's advisable that you only use a maximum of two images.
Successful push notifications are usually made with images featuring bright colors, expected results, and happy people among others.
THE ICON
It's an identity that makes the push notification stand out from the crowd. to some brands, the icon is the most important component of the push notification since it brings 90% of the mobile traffic. This makes it ideal for mobile devices since that's what users will see at the first glance.

For a high level of success, make attractive, unique, and captivating icons. It's advisable to use monochrome images. However, a single large object minus clutter or text would still be good.
THE TITLE AND MESSAGE DESCRIPTION
It should only take a person a maximum of 3 seconds to read the notification's headline and understand it. This is how you draw interest or not. So, how should be the title? At first glance, it should draw interest. Witty captions that highlight the type and benefits of a product or service are usually the best. At most, the header should have only 30 characters.
The descriptive texts need to be brief and detailed with a limited character limit. You can add emojis to the text to increase its effectiveness. You should, however, limit the descriptive text to 45 characters. The shorter the text, the higher the chances of it arousing curiosity, maintaining the reader's interest, and gets their full attention!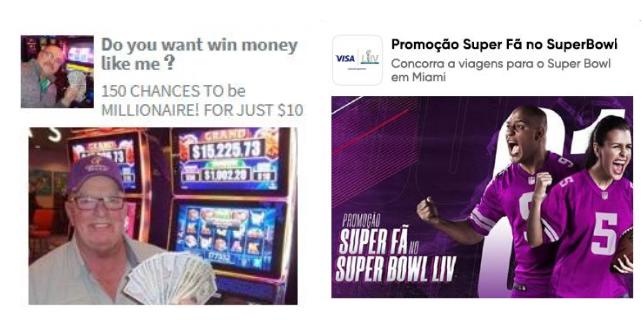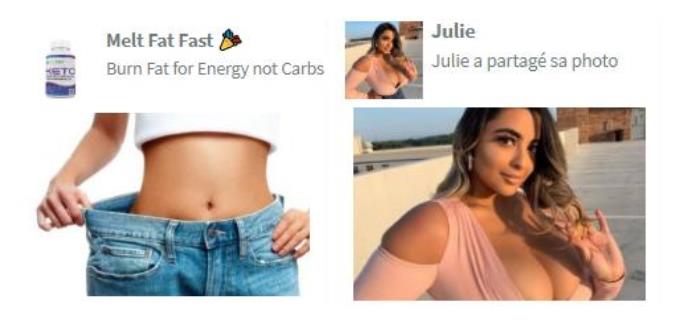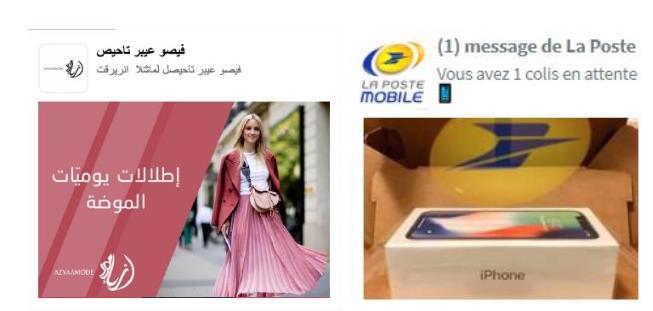 The Bottom Line
If you are in the affiliate marketing sector, the best way to earn good commissions is by implementing push ads. They provide high levels of traffic with guaranteed conversion rates. This is because they offer re-engagement options and work with many verticals. Besides that, these ads are cheap and offer a high return on investment.